COMMERCIAL LISTINGS FOR SALE
Check out our "For Sale" commercial properties, if they don't match your needs browse down the page and search our local MLS IDX feed to see if you find something more suitable. 
208-691-2995 | cory@cdacommercial.com
Office Building
$759,000
9,624 Sq Ft.
157 W. Hayden Ave.
Hayden, ID 83835
COMMERICAL PROPERTY in Post Falls
OWNER IS READY TO SELL!!!
DEVELOPERS DREAM: Across Street From WalMart
$849,000
3400SF Home + 3 Shops/Outbuilding
2995 E. Mullan Ave,
Post Falls, ID 83854
PENDING SALE
Industrial/Warehouse Building
$649,000
6,400 SF
11522 N Carisa Ct
Hayden, ID 83835
(Warren K Industrial Park)
Mixed Use Building For Sale
$615,000
5,800 Sq Ft
2887 W Main St.
Rathdrum, ID 83858
Convenience Store
$260,000
PRICE REDUCED!! OWNER IS READY TO SELL
5,375 Sq Ft.
Industrial Building
$895,000
10,500 Sq Ft.
6640 W. Boekel Rd.
Rathdrum, ID 83858
Office Building
$759,000
9,624 Sq Ft.
157 W. Hayden Ave.
Hayden, ID 83835
Coeur d' Alene, Idaho commercial properties, businesses and vacant land for sale.  Whether you are looking for a larger office building for your company, or seeking a good investment property in the bustling CDA area, we can help.  Market & Investment knowledge to help ensure you make the right decision for your future.
SEARCH THE CDA MLS FOR MORE LISTINGS
Browse 100's of commercial real estate buildings for lease in Coeur d'Alene and surrounding areas below. Once you find a property you like please call us at (208)691-2995 or email cory@cdacommercial.com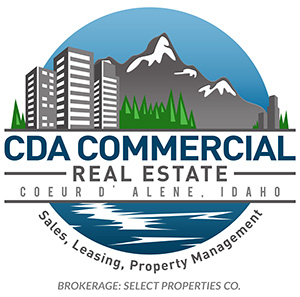 HAVE QUESTIONS ABOUT THE PROCESS OF BUYING CRE?
Looking for an investment?  Do you have a set CAP Rate you desire?  Are you seeking a new home for your business?  Click the button below to begin the search. 
CDA COMMERCIAL REAL ESTATE AT SELECT PROPERTIES CO
1677 East Miles Avenue Hayden Lake, ID 83835 United States
(208)691-2995 | cory@cdacommercial.com